Exhibitions & Commissions

2016  Fine Art Quilt Masters, The Festival of Quilts, NEC, Birmingham 11-14 August
2016  Warwickshire Open Studios 24 - 30 July
2016  ICHF Fashion & Embroidery NEC, Birmingham 17-20 March
2015  Contemporary Craft Open, Unit Twelve Gallery (prize winner)
2014  'Happy Ever After', Nuneaton Art Gallery
2014  In The Wool Shed, East Chase Farm, Warwickshire
2013  'Traditional Twisted', Unit Twelve Gallery, Staffordshire
2012  'At Home' Studio Sixty, Kenilworth Warwickshire
2010  The Textile Collective, Wildes Wine Bar, Leamington Spa
2007 - 2011  The Festival of Quilts, NEC, Birmingham (Art Quilts prize winner 2007)
2006  Fibre Artists, Jefferson Gardens, Leamington Spa
2005  Mint, 70 Wigmore street, London
2005  William Ball Kitchens, Basildon, Essex
2004  Contemporary Crafts Fair. MAC, Birmingham
2004  The Gallery, Earlsdon, Coventry (solo)
2004  Fibre Artists,Warwick Museum, Warwickshire
2002  At The Tea Factory, Warwick Museum (solo)
2000  British Crafts, Chiswick, London
2000  Higgins & Ellis Christmas Exhibition, London
1999  'At the table', private commission, Germany
1995  The Gallery, Cork St., London
1994  The Custard Factory, Birmingham
1993  All Around The House, Drumcroon Arts Centre, Wigan
1992  In Stitches, Gawthorpe Hall, Lancashire
 Freelance Design Work
1992 - 1996  Lewis and Lewis Design, London
2008 - 2010  Love & Hope Children's Clothing, London
Teaching

2015  Statford-Upon-Avon Arts Society
2014  The Beetroot Tree, Derbyshire
2013  Sew Arty, Kenilworth, Warwickshire
2013  Unit Twelve Gallery, Staffordshire
2013  Studio Sixty, Kenilworth
2001  St. Johns Museum, Warwick
1997  University of Northampton
1995  Loughborough University
1995 to date Warwickshire College
1994  Kidderminster College
Education
1994  MA Textiles U.C.E Birmingham.
1992  BA (Hons) Embroidery Manchester Polytechnic
1989  BTec ND Printed Textile Design
Publications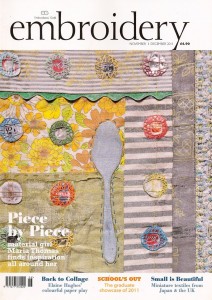 Embroidery Nov/Dec 2011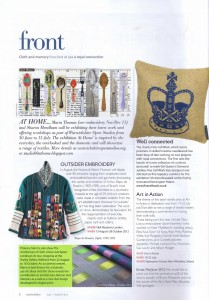 Embroidery July/Aug 2012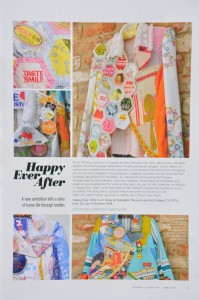 Embroidery Jan/Feb 2015
Talking with Maria in her home studio...

It is soon clear that her work is a repository where emotions can be stored or released through the act of making.
Jo Hall, Editor of Embroidery magazine